There's a lot to say about New York City. The City that doesn't sleep, from the plays on Broadway to the museums, exhibits, Times Square. A world in itself, and an easy one to get lost in, especially for an outsider.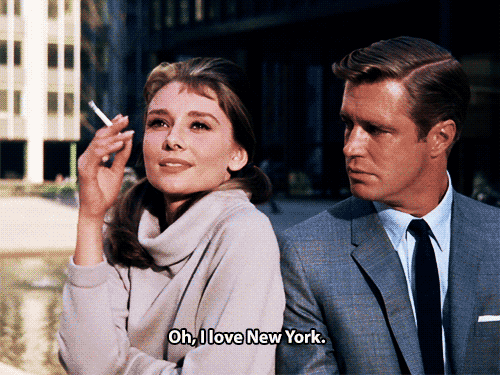 I decided after talking with one of my friends who lived in the City to take a day and wander around the city, completely led by them. To see a side of New York I've never seen before.
My day started in Manhattan, coming in by way of a bus to West 42nd Street, The Port Authority Bus Station. The first thing to notice about Manhattan beyond the towering skyscrapers is the constant traffic and the chatter.
I've been around New York City plenty of times, to the major exhibits and attractions, and it's easy to be drawn in towards the Statue of Liberty, the shopping plaza at Times Square and the Rockefeller's Plaza. This time since my friend decided to take us to the Promenades.
The Promenades is a hiking trail or a walking path that used to be a route for an old train that shut down long ago. New York filled in the old train path with a variety of plant life. A perfect blend of cityscape with the refreshing breeze under some trees. The walk was a few miles before we decided to get breakfast at a restaurant in China Town called The Royal Palace.
I can't recommend the food any more than to say eat here, what are you waiting for? The restaurant serves in the style of tapa's where plates are brought to you, varying from ribs to shrimp rolls, to chicken feet. I did not try the chicken feet, see if you're braver than I am.
Then we took a walk towards the bay side of Manhattan, taking a ferry to Governor's Island. There were a few sights along the way, things to take in, and even an ice cream place that I wish I remembered the name to right now. But, this is about more than food.
There was this architectural wonder, on the outside it was built to look asymmetrical, leaning in an odd angle outwards, but inside it was perfectly symmetrical. The ferry was leaving soon, as it did every hour, so we hurried.
Looks empty, doesn't it?
Well, you wouldn't be wrong for assuming it.
Governor's Island was as it sounds, a strategic fort that lasted up to the Civil War before being turned into a prison. The entire island had a haunting feeling to it of emptiness. Endless rows of brick buildings, empty, some with a broken window's a relic of a time long since passed. We remarked on what a great attraction this island would be for Halloween. Although my friend reassured me that on the weekend it's much more lively.
There were a few exhibits, and I may have almost broken a cannonball exhibit, I won't admit to anything outright. This fort turned jail was torn down half a century ago, and now just a historical monument to a world left behind. One of the most isolated places I've ever encountered near or around New York. And believe me, in a city as populated as New York, it adds the haunted feeling.

After Governor's Island, we rushed through Central Park which deserves its own article. Towards the Zoo, to a special art exhibit. Forty years ago there was a strike going on by photographers, their pictures were lost to history until recently someone uncovered the film. Ordinary shots of places all around New York, some of the just family outings, barbecues, and shots of couples. I couldn't help but wonder forty years later if they were still together.
We spent some time afterward in Washington Square Park watching a jazz venue playing while the park was alive with traffic and life. People coming and going, some stopping to watch, some sitting by the fountain we were sitting at.
The sun was still bright, but we still had two more stops to make before our night would end, and I would make our way back home: dinner at a night Italian restaurant featuring a piano player, and a comedy show.
There is something to be said about seeing sights that most people don't get the luxury on seeing. The hidden wonders, and little treasures waiting around every corner remind me why I love New York so much. No end to what I can do or what I can see, who I could meet, or where I can end up.
If you ever get the luxury of seeing this amazing, fast-paced city, do yourself a favor, wander a little. Find a cafe, or a restaurant you don't recognize, stop by a museum, appreciate the art and the flavor the city has to offer.
You never know what wonders you'll find.