The 91st Academy Awards 2019, commonly known as the Oscars, was held this year at Dolby Theatre, LA in the United States of America on 24th of February. The Academy Awards are one of the most prestigious and glamorous events in the fashion and film industry that are much awaited every year.
Let us have a look at some of the highlights of the event – the trending outfits on the Red Carpet, Award Winners and major highlights of the Oscars 2019.
The Red Carpet
So, what did the celebrity fashion look like this year?
Well, first and foremost, pink was the hottest color on the Red Carpet. From capes to poofy gowns, pink dominated this years' fashion scene.
The most exciting part was men and women experimenting with gender fashion norms and embracing androgyny not only in color but also with style!
Men sported gowns, while women showed up in pantsuits, which perhaps is quite a standout moment.
Let's not forget when Billy Porter came up with a hybrid suit/ball gown made up of black velvet on the Red Carpet.
Men's fashion this year included innovative and daring tuxedos with velvet as the mainstay.

The majorly trending items on the Red Carpet ranged from flowy capes and floral gowns in bright, zesty colors to regal velvets donned in stylish cuts. Sequins, metallic and pastels were highly prominent.
Although pink dominated the color wheel, there was an addition of its bolder red and black too. Glitter, shimmer, ruffles, ribbons, and bows melded fantastically with various hues to create the perfect Red Carpet look.
Ladies, you don't wanna miss Chris Evans' moment with Regina King!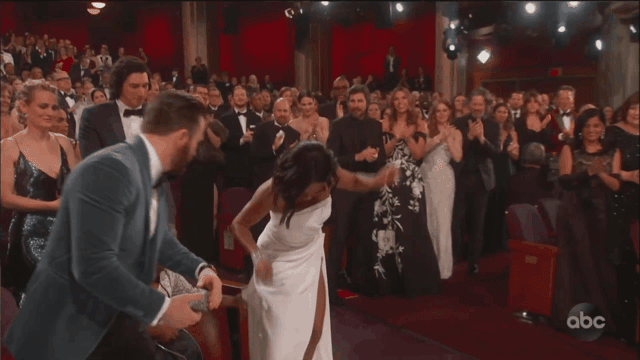 The gentleman helped the lady escape an oops moment with her tricky dress stuck in the heels and aided her onstage to accept her Best Actress in a Supporting Role award.
This, right here, is another moment that had the fans wild. They not only appreciated Lady Gaga's and Bradley Cooper's live performance of Shallow but couldn't help but ship them as a couple – which they are not in real life, much to the fans' dismay.

Gaga also won her first Academy Award for the same song, which made it the most awarded song in the film history.
But that's not all. Gaga's best bling moment on the Red Carpet was her necklace on top of a perfectly complementing and deceptively simple black McQueen gown. She sported a beautiful 128.4 carat Tiffany necklace worth $30 million!
Another favorite was J Lo's Tom Ford dress on the Red Carpet with intricate mirrored mosaic details. Lopez looked equally stunning with an after-party Zuhair Murad couture dress.
Another girl to stun was Shay Mitchell. Just look at her… Is there a need to say more?