King Arthur: Legend of the Sword is directed by Guy Ritchie and stars Charlie Hunnam as young King Arthur. He was robbed of his birthright as a kid and was picked up and raised in a brothel. This boy has no idea about his past until the day he pulls the sword from a stone and realizes that he is in fact destined to be king.
Guy Ritchie's direction is the perfect amalgamation of style and substance. I, personally, liked a lot of his earlier work – especially, Sherlock Holmes. In this movie too, he hasn't disappointed us and has managed to capture some really cool. King Arthur is not a great film because it has a lot of storytelling flaws yet from the beginning
King Arthur is not a great film because it has a lot of storytelling flaws yet from the beginning to the end, I was thoroughly enjoying myself. I saw typical Guy Ritchie energy in the film especially the way he edited the conversations along with the action sequences. He has a great way of changing his acting skills per requirement and that is something I believe, deserves serious applauds from the audience.
Charlie Hunnam was as awesome as King Arthur; I mean if you look at the making of the production, you will see that he was very determined to get this role for himself. Even if it involved physical fighting, Charlie Hunnam didn't back down. And when you're that passionate about something, well, you can't really suck at that; can you?
Another person worth mentioning is Jude Law. He plays the evil king of the land and he seemed to be really enjoying this role. However, that doesn't mean he was good at being evil because there are a lot of sequences in this movie that the audience didn't particularly enjoy.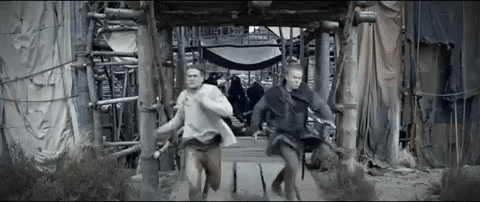 Next, we have, Daniel Pamberton. His musical score was also very entertaining, and very different for this genre of film to have. With Guy, though, it is kind of a given; he always surprises you.
This movie was a one-time watch only – at least for me. It is fun. The roles have been fairly played well when compared to other fantasy movies of this time. The scenes are good. The direction is good too, but there is no story. There is nothing that stays with you for hours, if not weeks after you watch this film and that is always disappointing when you have had such high expectations for a movie.
There are sequences that rely quite a bit on CGI, although the 3D was actually surprisingly worth the ticket money. If you don't feel the same way, please let us know in the comments below!