Waking up to a face full of the red pimples is probably not the most amazing feeling.
I had never experienced acne myself but this year as I turned twenty, I was invaded by the planet of acne. At first, I had no clue as to what products to use, whether I can keep the same skincare and makeup routine or not and if I will ever be able to see my real skin in this life. All this stress was just an aggravating factor to my acne.
When you suffer from acne, you should try and find out 'what started the problem?' Always go back and check the new products you added to your beauty routine because there is a chance that a change of product must be the reason behind the breakouts.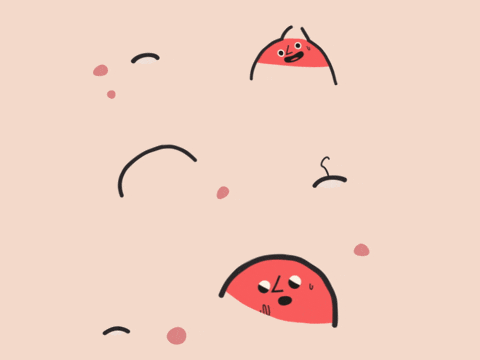 If you're still lost, here's the skin care guide for you. Follow these steps to achieve the perfect flawless skin!
Step 1: Cleanser
One of the best ones are the 3-in-1 cleansers by Philosophy. This helps remove the impurities from the surface, leaving the skin ready to be deep cleaned. If you do not have the access to this product an excellent alternative would be the Clean and Clear Acne Cleanser.
Step 2: Toners
Clinique Acne Solution aids to dry out the acne spots helping the healing process. The best way to use this product is pouring some on a cotton pad and rubbing it gently all over your face. Many people wash their face after using a toner, however, after this toner, you do NOT wash your face. If you are living on a budget and need a dupe for this product, it would be the oil-free Acne Stress Control toner.
Step 3: Moisturizers
Since the toners are going to make your skin super dry and patchy, you have to restore the moisture using serums, facial oils or moisturizers. One of the lightweight facial oil is the Farsali Gold Elixir, which contains minerals that help heal your acne. A perfect serum would be the Mario Badescu Anti-Acne Serum and lastly, the best moisturizer is the Cetaphil Oil Control Moisturizer or Clean and Clear Acne Control Moisturizer.
Here are some Tips I put together to help this process even more!
Tip #1: If a pimple has a white head, squeeze the puss out very carefully, without applying a lot of pressure, or else it will pop up on the surface again!
Tip #2: Oily products are most probably not your best friend.
Tip #3: Stop touching your face!
All these products have been tried and tested personally, thus the suggestions have been made. I really hope they work for you as they worked for us, however, before trying these products make sure that you are not allergic to any of the ingredients mentioned in these skin care items.